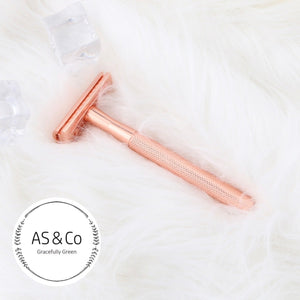 Double Edge Reusable Safety Razor

Colours: Rose Gold

Completely plastic free double edge reusable safety razor.
Elegant design with handle grip, so simple to use, and made to last a lifetime!
*Comes with complimentary 5 replacement razor blades.

Zinc Allow razor head
Brass handle
Elegant design
Lightweight
Strong and long lasting
Reusable for generations to come
How to use:
Twist the head off the handle clockwise, carefully place the blade between the 2 parts of the head, put handle back on and carefully twist anti-clockwise to tighten.

Material:
Head - Zinc Alloy 
Handle - Brass 

Recommendation:
Store your blunt razor blades in a glass or metal container, and discuss with your local council regarding sharps and metal recycling.

Our packaging is minimal and is completely plastic free and bio-degradable.
Your purchase will be posted within 48 hours in a compostable post bag.