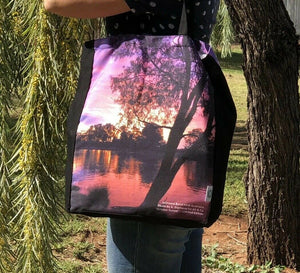 October Sunset Large Shopping Bag 'Johnson's Bend' Sunraysia - Limited Edition

Beautiful multi-purpose shopping bag with our beautiful Sunraysia scenery!

This 'October Sunset' bag showcases our beautiful Johnson's Bend location on the Murray River!

There are only 300 made - Limited Edition

Great for local souvenirs as well as daily use.

Material:
Sides and Handles - Organic Cotton
Front and Back - Polyester Blend

Care Instructions:
Machine washable with normal laundry

Our packaging is minimal and is completely plastic free and bio-degradable.
Your purchase will be posted within 48 hours in a compostable post bag.