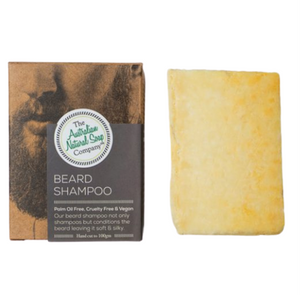 THE AUST. NATURAL SOAP CO Solid Beard Shampoo Bar 100g

Zero Waste Shaving | Soothes Irritation | Fresh Citrus Scent | Palm Oil Free | Cruelty Free | Vegan | Suitable for Sensitive & Dry Skin

Looking for a zero waste and toxin-free option to care for your beard? 
The Beard Shampoo Bar by The Australian Natural Soap Company is a 2-in-1 shampoo and conditioner for the beard, which helps eliminate clutter and simplifies any beard care routine. 
Use it with our Reusable Razors for the ultimate ZERO WASTE SHAVING combo!

This zero waste shampoo bar combines nut and plant oils from Grapeseed, Sweet Almond, Sweet Orange and Lemongrass which can help strengthen, moisturise and soften the beard. 
Naturally good for you:
Sweet Almond Oil strengthens hair follicles, to keep the beard strong, just like its owner

Geranium Oil is an antioxidant to heal skin from environmental toxins while also providing anti-inflammatory properties

Grape Seed Oil is a powerful conditioner and moisturiser, protecting beards from frizz, split ends and dry hair 

Lemongrass Oil provides a fresh scent that keeps beards feeling fresh and clean between washes
Product Ingredients:
Sodium Olivate, Sodium Prunus Amygdalus Sativa Kernel Oil, Sodium Grapeseedate, Sodium Cocoate, Cymbopogon Citratus (Lemongrass) Leaf Oil, Citrus Aurantium Dulcis (Sweet Orange) Peel Oil, Geranium Macrorrhizum Herb Oil.

Made and Owned, with ♡, in Australia

Our packaging is minimal and is completely plastic free and bio-degradable.
Your purchase will be posted within 48 hours in a compostable post bag.