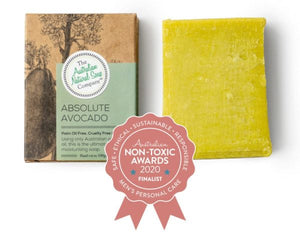 THE AUST. NATURAL SOAP CO Solid Face Soap Cleanser Bar Absolute Avocado 100g

Avocado. Delicious, healthy fare of creamy green goodness. Not to mention, a magical oil with natural antioxidant and anti-inflammatory. Ideal for anyone with skin sensitivities.
Absolute avocado soap leaves your skin feeling clean, fresh, hydrated, nourished and baby-bottom-soft. 
Made from 100% avocado oil

Deeply moisturising soap for body and face

Helps skin stay hydrated

Helpful to relieve acne, eczema, dermatitis and psoriasis

Use as a shampoo to improve a dry and flaky scalp
Product Ingredients:
Saponified Avocado Oil

Made and Owned, with ♡, in Australia

Our packaging is minimal and is completely plastic free and bio-degradable.
Your purchase will be posted within 48 hours in a compostable post bag.